What is Teacher Visibility?
bulb connects students and teachers through groups. When a teacher owns a group with student members, the teacher will be able to view all shared work by those students in his/her group. This means student work that is shared to other teachers and groups, even from previous years, can be seen by the current teacher.
| | |
| --- | --- |
| | Teacher Visibility applies to all groups- created by you or bulb. As long as the students account is associated with the same organization as the teacher account, teacher's can view all shared work in a students portfolio. |
How to use Teacher Visibility
1. Navigate to a group (that you are the owner of).
2. Open the members tab and select a student.
3. You are now viewing the student's profile and you have access to view all work that has been shared-no matter how or when it was shared.
FAQ
1) Q: Is there an easy way to tell if this feature applies to my groups?
A: Two things- You must have an Educator role type bulb account to gain Teacher View & you also must be the owner of the group. To determine the owner of a group, look for the person icon on your group list. Or within the Members tab, the tile will say "Owner"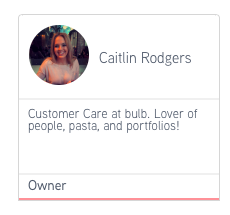 2) Q: I can't see my student's work, why?
A: There could be a few different factors.
1. Make sure the student has actually shared pages within a collection. Pages within a collection must be shared for a teacher to see the work. Teachers are not able to see unshared work.
2. You might be the owner of a group with student members, but not a role type teacher in the system. Email help@bulbapp.com to confirm or adjust your role type. This feature only applies to role type teacher/educator.
3. You are not the owner of the group. You must be the group owner to see students' shared work.