| | |
| --- | --- |
| | This feature is especially beneficial to graduating students who may not have future access to their student Google Drive. |
1. Click "SIGN IN TO GOOGLE" to enable this feature.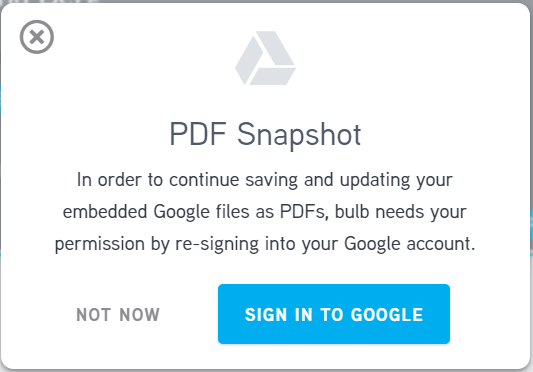 2. If you click "NOT NOW," you can go into your settings at anytime and check the box next to "Enable PDF creation."

4. After you enable PDF snapshot, you will be prompted to sign-in to the google account you would like to merge this feature with.
5. Now, anytime you embed a document from your Google Drive, a PDF version will be copied into your Asset Library. 
6. The PDFs will be saved in your asset library on bulb even if your google account is deactivated. 
| | |
| --- | --- |
| | Your PDF Snapshot will update simultaneously with your original document as changes are made to it on Google Drive. |