With bulb, you can easily create a digital resume to showcase your best work to the world. Use the About Me, Experience, Education, and Other Sections to not only say who you are, but show who you are through linked portfolio content.
The Basics:
Click on your Resume tab and add your contact information and link your social media profiles.
Contact Information: Add your email, phone number, and general location.

These fields are optional. Only list information that you are comfortable with your Resume viewers seeing.

Social Profiles: Link your Facebook, Instagram, and/or LinkedIn profiles to your Resume.
| | |
| --- | --- |
| | Spruce up your resume by adding an avatar, description, and cover image to your bulb portfolio. These show on your resume. |
About Me, Experience, and Education Sections
About Me

Provide a 1-3 sentence summary about yourself.

Where are you from? What are your goals? What is your best trait?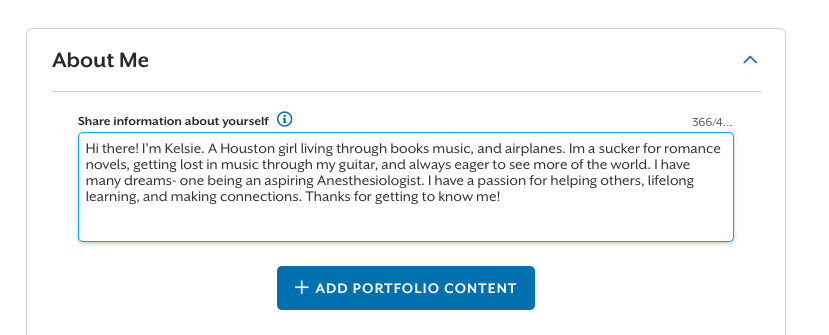 Experience

Fill in the fields

Professionals: Provide work experience from your current and previous position(s).

Students: List your current institution, including relevant coursework, internships, or volunteer work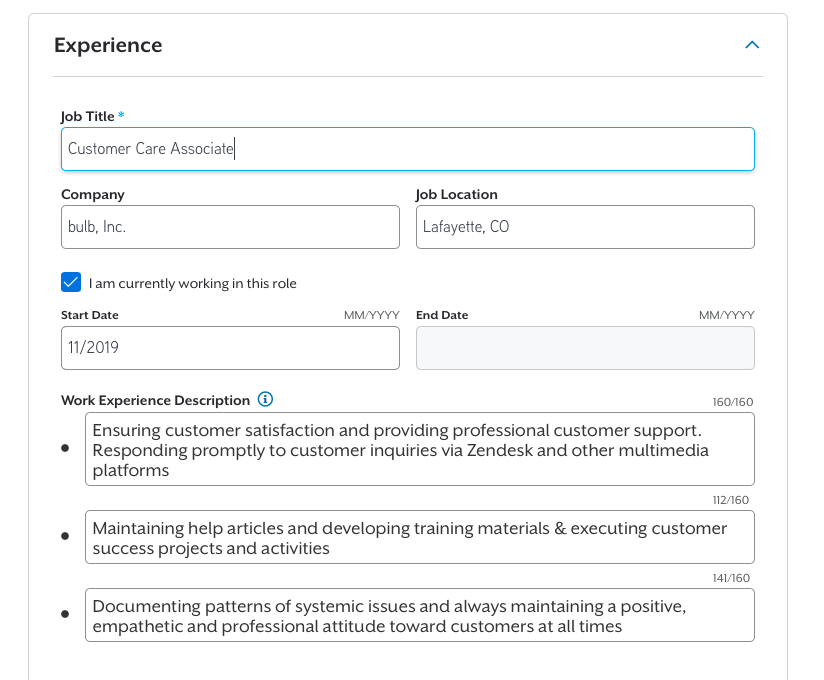 Education

Fill in the fields

Where did you receive your education and when?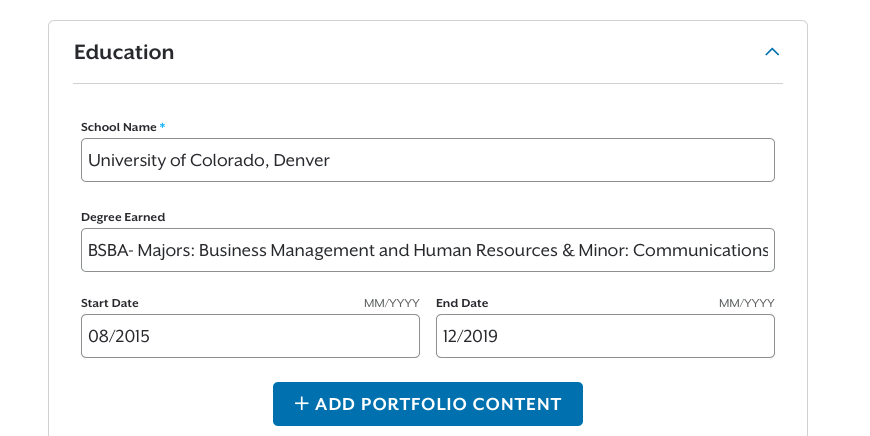 + Add a Custom Section
Use a custom section to add more specific information to your Resume:

Community Service

Hobbies/Passions/Extracurricular Activities


Awards/Accolades

References

Skills

Behavioral & Strengths Assessments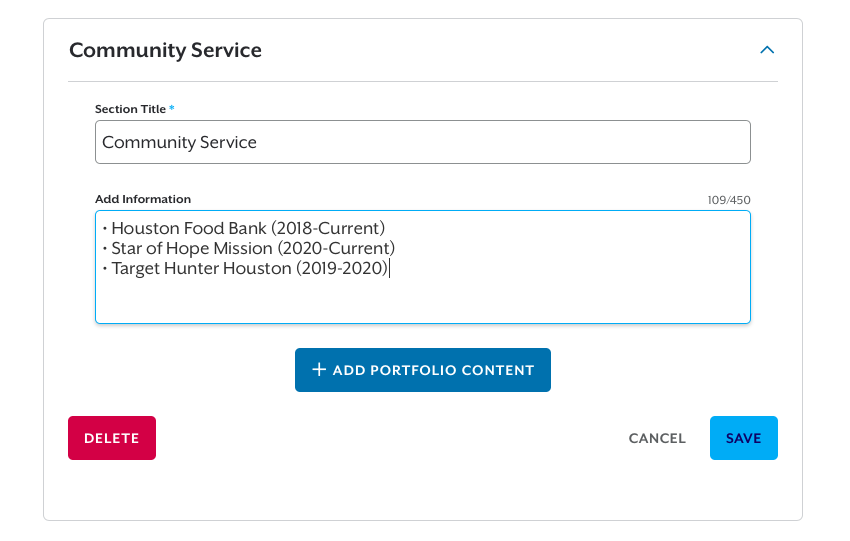 Add Portfolio Content
Within each portfolio section, add your portfolio content (pages/collections).

Click on ADD PORTFOLIO CONTENT within each section. Decide what content you would like to add.
Content from your portfolio will appear. Choose content by clicking on tiles.
When selecting page tiles, the tile turns blue and displays a check-mark. Click SELECT.
When selecting collection tiles, you'll have the option to choose the whole collection or choose pages within that collection.
Share Your Resume

Share your bulb Resume using the SHARE RESUME LINK button at the top of your Resume. Only those with this link will have access to view your Resume.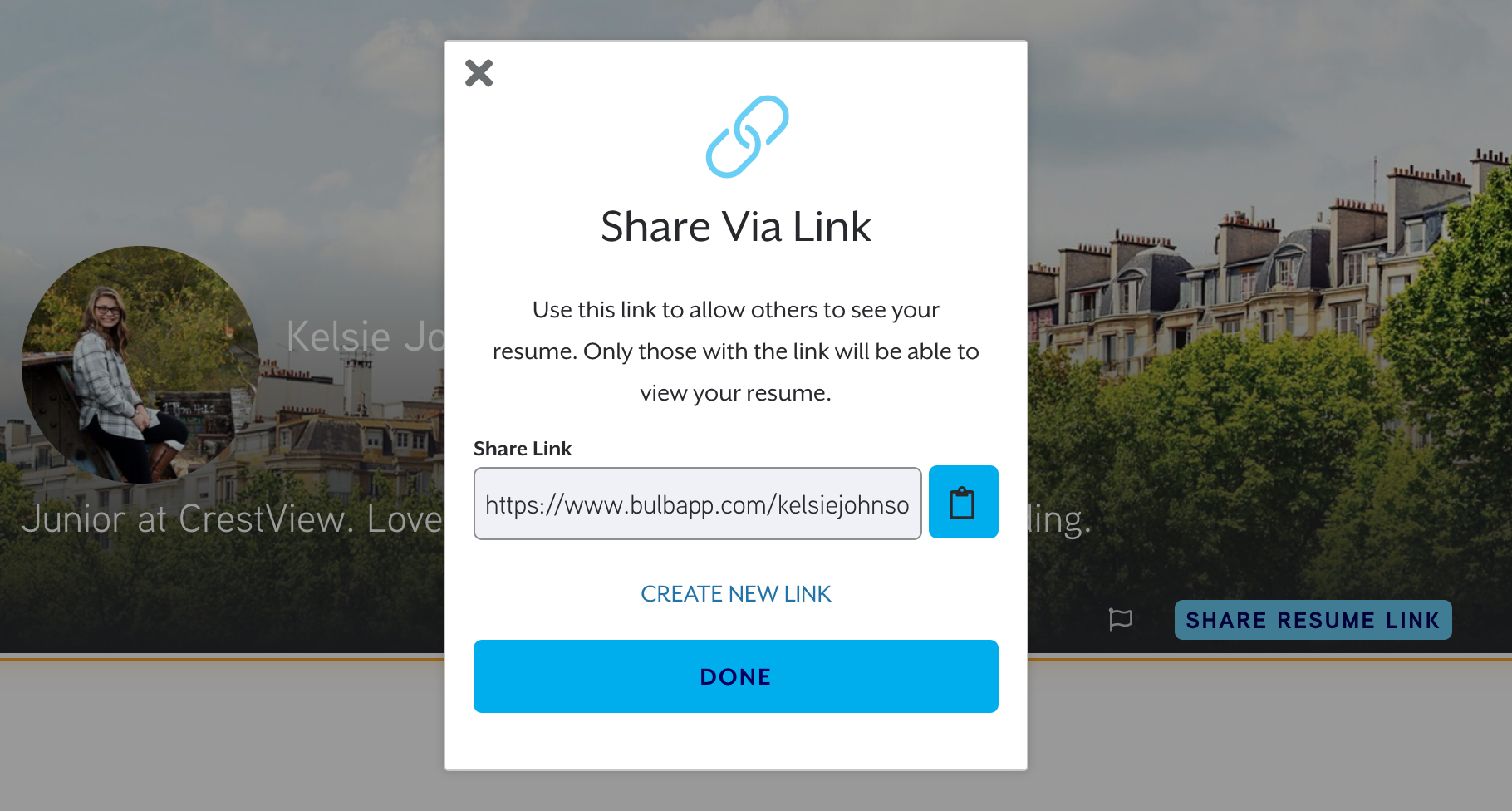 *Reminder: you can only Share your bulb Resume if you have a bulb+ account.*