When you embed content from your Google Drive, it is important that the share settings are aligned with the publishing settings you intend to use on bulb.

If the Google Drive content's share settings are restricted, the embed will show up blank on your bulb page.
To embed Google Drive content and ensure the share settings are correct:
1. Navigate to the page you want to embed your content on. 
2. Click FILE and then select GOOGLE DRIVE. Connect the account you would like to embed the content from. 
3. Select the content in your Google Drive. 
4. If your content has restrictive share settings you will get this pop-up.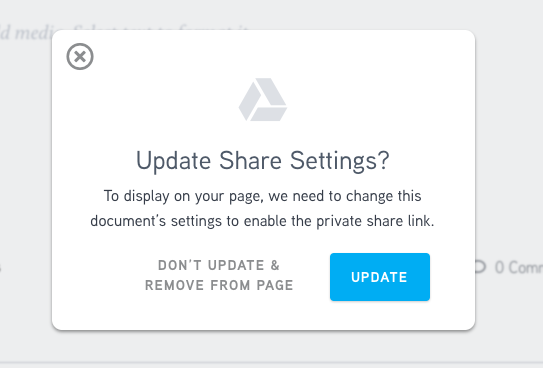 If you click the blue UPDATE bulb will automatically change the content's Google sharing settings in order to embed.

If you click DON'T UPDATE & REMOVE FROM PAGE, the content will not embed onto your page. 
| | |
| --- | --- |
| | If you authorize bulb to change your sharing settings, it will automatically change your Google share settings on that content to "Anyone with the link can view". |