| | |
| --- | --- |
| | Contact help@bulbapp.com to get admin dashboard access for your organization. You must be a SuperAdmin to access the admin dashboard. |
Admin Dashboard Overview
Start by watching this video tour:
If you are a SuperAdmin of ONE organization: navigate to the Admin Dashboard by clicking your name in the right hand corner. A drop down will appear, click MORE. Once you click MORE, you'll notice another drop down, click on ORGANIZATIONS. From here you will see your org's dashboard.

If you are a SuperAdmin of MORE THAN ONE organization

: navigate to your Admin Dashboards by clicking your name in the top right had corner, then click MORE and then in the drop down, click SETTINGS. Scroll down to the "Memberships" section and click the blue cog wheel next to the organization's Admin Dashboard you are wanting.

This is your Admin Dashboard. Select one of the tabs to view logistics for your Organization.
This is the general summary of your Organization.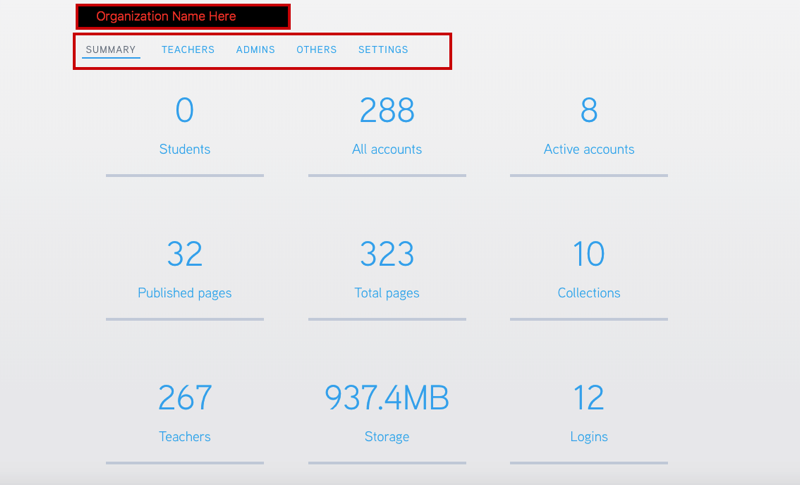 This is what the "Teachers" tab looks like.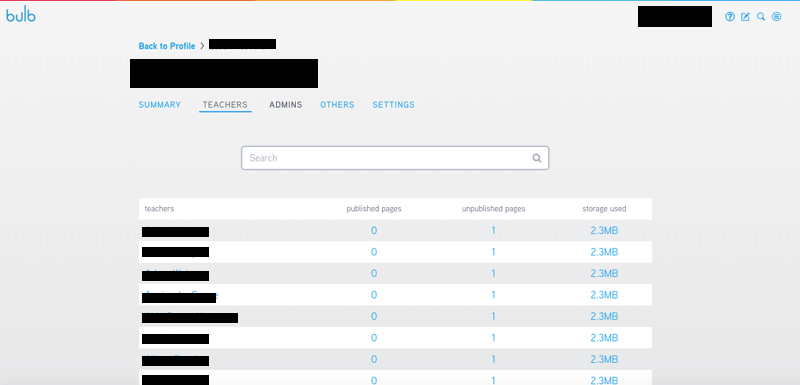 You can search names from this menu.

If you hover over a name you can "View Profile" and see all content that is shared to the public. If you click "Sign In As" you can operate as the user and troubleshoot issues or remove content.
On the Dashboard, "Admin" is a role type for employees within schools and districts i.e. Principal, Secretary, IT Expert.

This is not the same as SuperAdmins who have access to view the Admin Dashboard.
This is what the "Settings" tab looks like.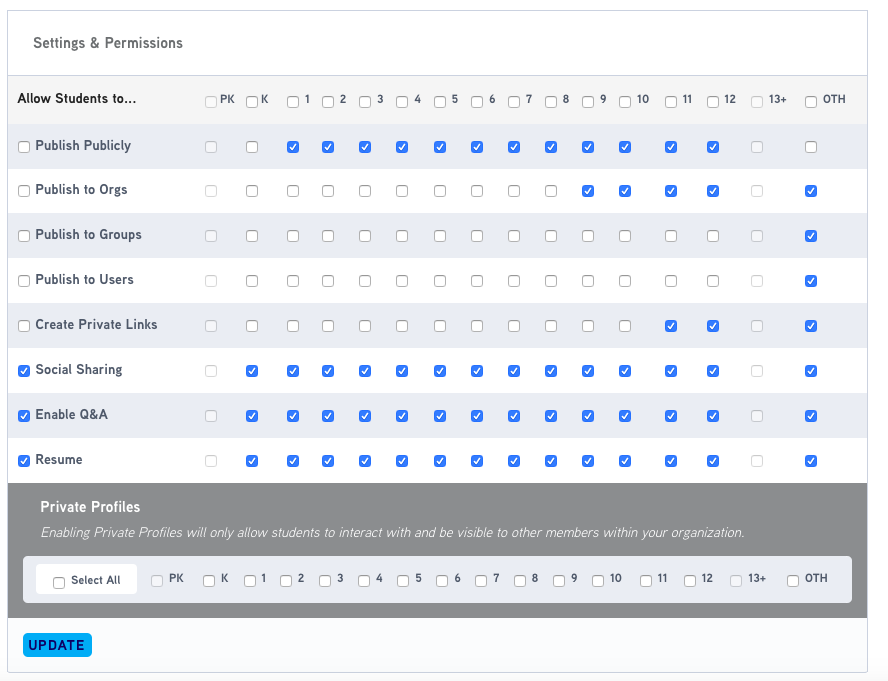 The "Settings" tab allows you to make changes to sharing abilities and permissions for bulb features for the entire Organization. In "Student Sharing," you can set the sharing rights for students in your Org:
Publicly: By default, public sharing for students is turned off for all Organizations. You must select the Public box for certain grade levels to turn this option on. Public does mean Public. Content shared publicly is searchable on bulb as well as the web.

Share to Orgs: This option allows students to share to their school or district organization. Only bulb members within their organization could view their content.

Share to Groups: Groups is a feature within bulb that allows a private group of members to view and share content with each other. For bulbSchool clients, bulb typically auto-creates class groups based on the school's student information center. Additional groups can be created for mentorship groups and project groups, etc. Typically, the teacher is the Owner and Creator of most groups.

Share to Users: This allows students to share to an individual bulb user such as a teacher or classmate. Currently, this feature does allow a user to share to any bulb user inside or outside of that user's organization.

Create Private Share Links: This allows students to create a private share link to share content. Someone viewing the content must have this direct link to view the content. The content is

not

searchable on the web nor in bulb. This is a great option for students to share their portfolio on a college application or during a presentation.

Social Sharing: By enabling social sharing this enables the easy sharing icons to display under the Share menu. Students can then easily share to Facebook, Twitter, Google Plus, Instagram, and through email. If your district blocks any of these social platforms, the district filters will still apply. Students would just receive an error if they click one of these icons. You must enable all or none. You can not turn off individual icons.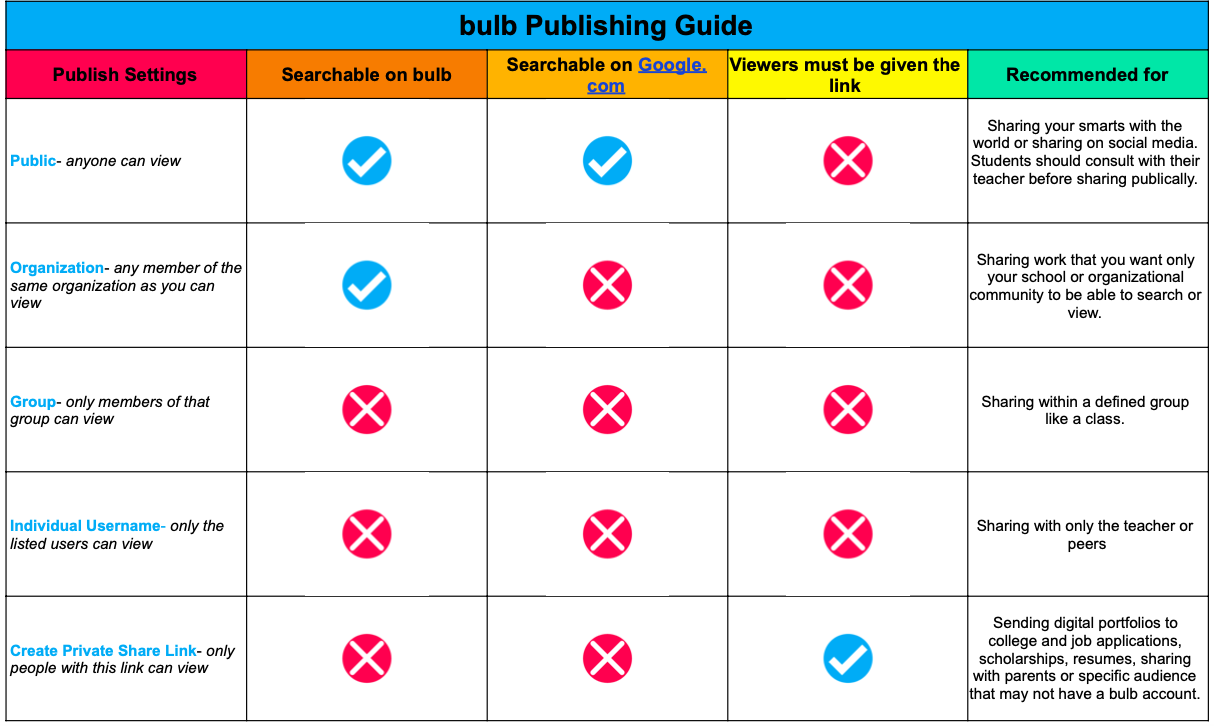 Enable Q&A: This turns on or off the ability for authors to enable or disable Questions and Answers on their individual pages. Q&A is a commenting/feedback feature. If you leave Q&A enabled, then an author can decide by each individual page if they want Q&A on or off. If you disable Q&A from the dashboard, then Q&A cannot be used on any page. You must be a bulb user to leave a Question. The Question only appears live on the page once the author Answers the question.

Private Profiles: This feature only applies to students. You can set Private Profiles for certain grades or entire organizations.

Students will be unable to access the entire profile of a public user (Banner, Avatar, Description) or navigate to content from the profile page. However, a student with a private profile can view, flag or copy (if a template) content produced by a user outside of the org that is shared to the "Public" or a "Private Share Link" and the private user navigates directly to that page or collection.

Students can still ask Q&A to other private users within their org, but cannot ask Q&A on a user

outside

of the org.

Student content previously shared as "Public" will also automatically become unshared

Students cannot be invited into groups with public users if they were in a group with users outside of their organization and private profiles is turned on, they will be automatically kicked out of the group. Students cannot invite users outside of their org into a group.
Resume Toggle
The resume toggle is automatically turned on for the entire organization, meaning users within the organization will have the bulb Resume feature included in their bulb portfolio unless SuperAdmins would like to toggle off. SuperAdmins can also decide on the resume feature for certain grade levels within the Settings & Permissions.

Teacher Visibility Toggle
The Teacher Visibility toggle is automatically turned on. bulb connects students and teachers through groups. When a teacher owns a group with student members, the teacher will be able to view all shared work by those students in his/her group. This means student work that is shared to other teachers and groups, even from previous years, can be easily seen by the current teacher.

Allow Profiles to Appear in Web Searches Toggle
In the organizations dashboard settings you will find the Allow Profiles to Appear in Web Searches Toggle, which is automatically turned on. When this toggle is activated it allows your profile to be seen on web searches (Google, Yahoo). If it is turned off your profile will not be available to the public.